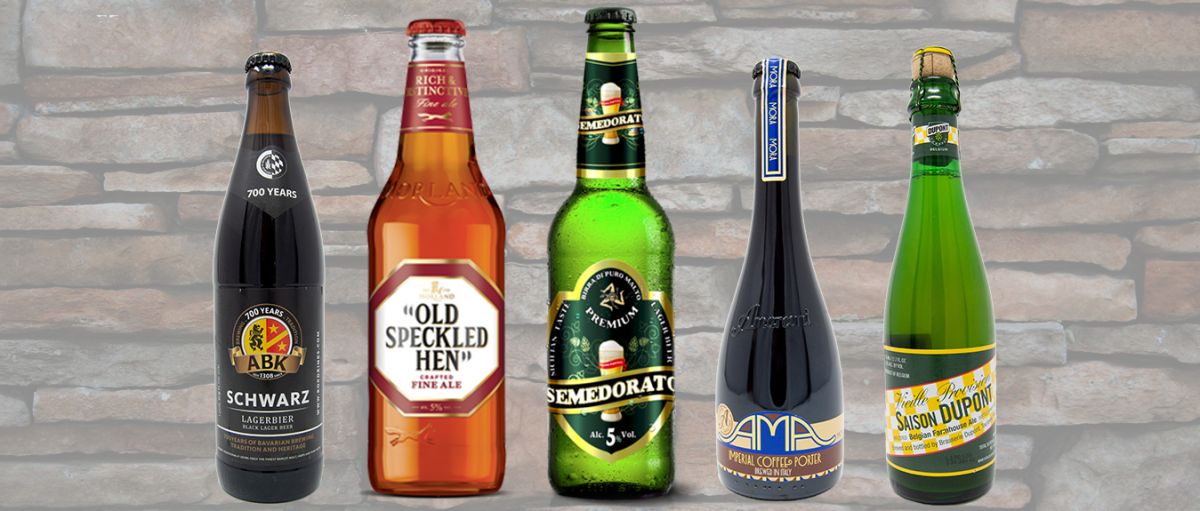 Top European Beers of 2019
26/08/2019 Beer is the most consumed alcoholic drink in Europe. Here are some European beers of 2019 which you must try.
Europe stands second in the consumption of beer, after Asia-Pacific. Europe accounts for 27% share of the total beer consumption, globally. Europe beer market is driven by changing lifestyles and consumption habits of alcoholic drinks, high disposable incomes, and popularity of beer among the younger generations. However, the biggest challenge faced by the beer industry is the easy availability of other substitutes.
[[relatedPurchasesItems-43]]
Here are some European beers that made into USABR`s Top European Beer Chart, which you must really try.
AMA-Bionda

AMA – Bionda is a bright gold coloured beer with a compact foamy head. It has a fruity and floral note from the use of orange-blossom honey and slow refermentation in the bottle. It has great elegance, harmony and balance on the palate. Every sip of this beer is finished with the tang of hops, with the invitation to continue the experience. It has 6 % ABV.

Weihenstephan Hefe-Weissbier

Weihenstephan Hefe-Weissbier is a golden-yellow wheat beer, with fine-poured white foam and smells of cloves. It impresses consumers with its refreshing banana flavour. It is full bodied and has a smooth yeast taste. It can be enjoyed at any time, goes excellently with fish and seafood, with spicy cheese and especially with the traditional Bavarian veal sausage. Weihenstephan Hefe-Weissbier is brewed according to our centuries-old brewing tradition on the Weihenstephan hill. It has 5.4% ABV

Rodenbach

Rodenbach Classic sets the benchmark for Flemish red-brown ales. This ale has sweet-sour fruitiness and refreshing taste. The ale is partially matured in oak casks. It is mixed fermented. It has 5.2% ABV.

Hobgoblin

Hobgoblin is traditional craft brewed with chocolate & crystal malts and a blend of Styrian, Goldings & Fuggles, which produces a full-bodied, Ruby beer that delivers a delicious chocolate toffee malt flavour, balanced with a rounded moderate bitterness and an overall fruity, mischievous character. Hobgoblin is the perfect beer to drink with Meat Stews, Steak & Ale pies, Sausages & Mash, Burgers & BBQs; Roasts; & Char-Grilled Vegetables.

AMA-Pilsner

AMA-Pilsner has hints of golden yellow colour and the head is white and creamy. It has floral and grassy bouquet fragrance. It feels fresh and elegant, in the mouth, the grassy notes come to the fore. Unfiltered pilsner hops are the real soul of the beer and the use of noble hops, in particular, plays a key role here. It contains 4.9 % ABV.

Old Speckled Hen

Old Speckled Hen has a high proportion of Crystal malt in Old Speckled Hen provides the key toffee/caramel flavour. The yeast used to ferment this beer provides the other key character - estery or banana/pear drop. This estery note provides its fruity and refreshing balance. The hops used, add a palate cleansing herbal note and very slight orange citrus. It has 5% ABV.

Saison Dupont Farmhouse Ale

Saison Dupont Farmhouse Ale's Coppery blond, the finest aromas and a strong bitterness transform this beer into a thirst-quencher. Their selection of yeasts is the perfect base for these typical aromas and ditto taste. A real refermentation in the bottle, which will continue for a long time in their cellar, results in this complex and particular aromatic beer. At cellar temperature (12°), or lightly refrigerated as an aperitif and plats as mussels.

AMA-Mora

AMA-Mora is a selected blend of choice coffees gives complexity and depth to the dark beer with a compact creamy head. Coffee notes in the bouquet, which is particularly broad and fascinating. It has hints of chocolate in the mouth, together with nuts and liquorice for an unforgettable experience. It has 9 % ABV.

SEMEDORATO Beer

SEMEDORATO Beer is a premium low fermentation beer in light colour and pure barley malt. It is an elegant and refined beer with 5% alcohol content to be served at a temperature of 5-6 ° C.

ABK HELL

ABK Hell is a light, bright and very satisfying beer. It is lightly golden with a bubbly, medium white head that steadily shrinks to a thin foamy lace. The aroma of this beer is soft and sweet with grain and very flowery hops. The taste of this beer is of full-bodied grain with lots of green apple and light but persistent hints of pine and herbs, with a light bitterness that persists through to the finish.
Related Post, You Might be Interested In:
Get rated by Quality, Value, and Packaging by the top trade buyers in the USA. Enter today and avail the early bird offer. Here is how to enter.