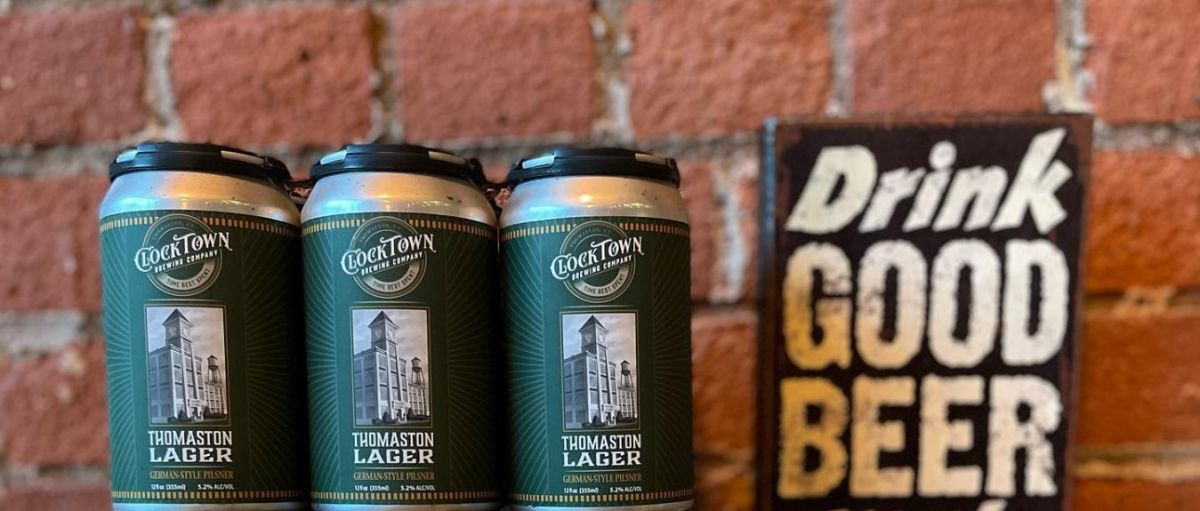 The United States Takes Multiple Awards Home at The 2022 USA Beer Ratings.
18/08/2022 The results for 2022 USA Beer Ratings are announced, and we are delighted to announce Thomaston Lager has Won the Beer of The Year Award.
Thomaston Lager bags a Gold with 95 points, Beer of the Year, Best in Show By Country Category, Best Beer of the Year By Quality, and Best Beer of the Year By Value in the 2022 USA Wine Ratings, held on July 24 in San Francisco, USA.
The brewery was the first site of the famed Seth Thomas Clock Company factory, where the best clocks and beers were made. Seth Thomas established the business in 1853 and was one of the most successful clock manufacturers in the nation. The factory became silent as the passing of time slowed. Clocktown Brewing Company opened its doors in 2020 and breathed fresh air into the building, giving it a new life.
Clocktown Brewing Company in Thomaston, Connecticut, offers a variety of the best artisan beers in every style. Their spacious taproom, complemented by a full bar and a pizza restaurant inside, has quickly become a popular gathering place in the neighborhood.
This Award-winning German Pilsner-inspired lager was made using Noble European hops, which produced citrus, herbal, and floral aromas. It is bright, golden, light, and pleasantly fresh and is made for everyone, especially lovers of the classic American Lager beer.
[[relatedPurchasesItems-43]]
Product name: Thomaston Lager
Producer name: ClockTown Brewing Company
Country: United States
ABV: 5.2%
IBUs: 25
Hops: Saaz, Hersbrucker
Malts: Pilsner
Served at: 38 - 40ºF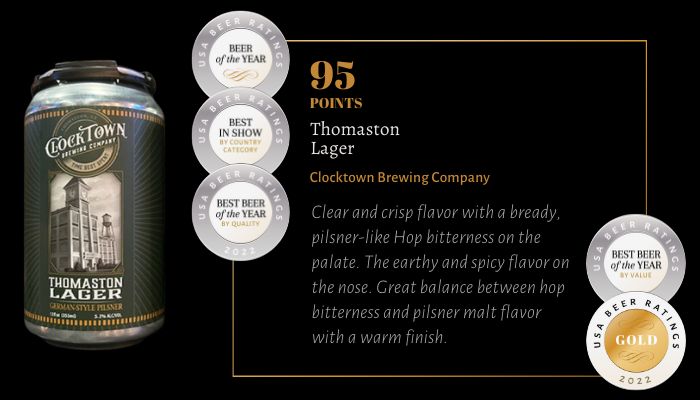 USA Beer Ratings Judges tasting notes:
" Clear and crisp flavor with a bready, pilsner-like Hop bitterness on the palate. The earthy and spicy flavor on the nose. Great balance between hop bitterness and pilsner malt flavor with a warm finish."
Here are some of the top winners of the 2022 USA Beer Ratings:
Beer of the Year - Thomaston Lager, United States
Brewery of the Year - Stormcloud Brewing Company, United States
Best Beer by Quality - Thomaston Lager, United States
Best Beer by Value - Thomaston Lager, United States
Best Beer by Packaging - Cheater 5, United States
Check out the full list of medal winners here.
USA Beer Ratings is a competition that evaluates beers on three criteria in particular:
a competition that evaluates beers on three criteria in particular:
- Quality
- Value
- Packaging
To win an award, your beer must be of the finest quality, give exceptional value to both the trade and the customer, and appear appealing on the shelf and at the back bar.
About the Competition and Organisers
The USA Beer Ratings aims to identify, celebrate, and encourage the promotion of beer companies that successfully appeal to and target a particular beer consumer. Any beer brand that wants to gain a spot on a restaurant's or retailer's beer list—and then, crucially, keep it—needs to be marketable and consumer-driven rather than just manufactured in the hopes that there would be enough consumers eager to sell and buy it.
The USA Beer Ratings is organized exclusively by the Beverage Trade Network, the US drinks events, services, business, and publishing group dedicated to helping drinks producers and brand owners get closer to the buyers, distributors, and retailers that can bring their products to market.
To know more, visit www.usabeeratings.com.
Enter your beers now and grow your beer brand in US market. Get your beers rated by Quality, Value and Package. The submission deadline is June 30.