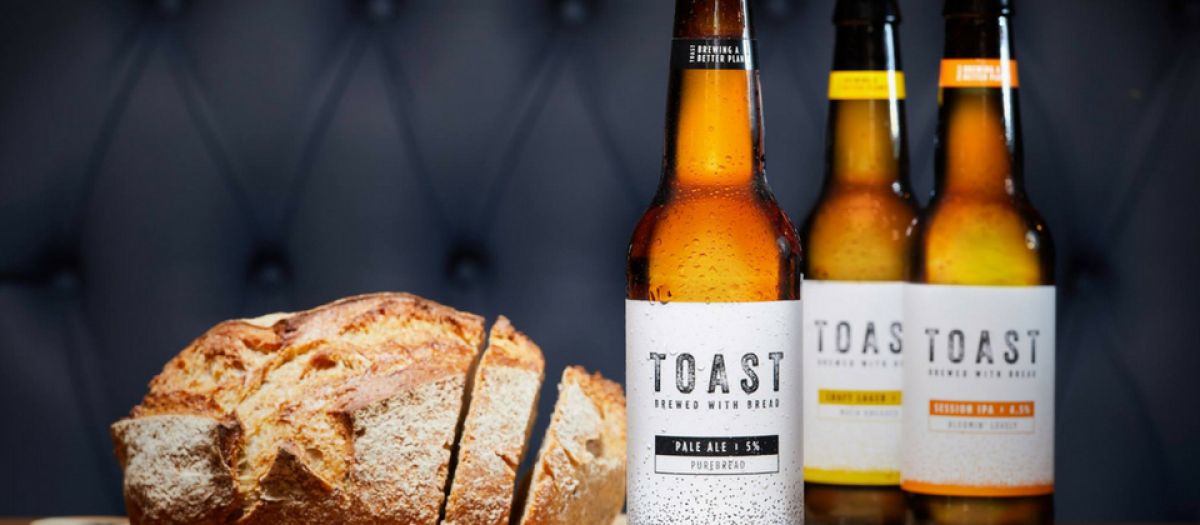 Award-Winning Beer Brewed With Fresh Surplus Bread
04/08/2018 The brewery wants to prove that the solutions to food waste are delicious
The founder, Tristram Stuart, was inspired to launch Toast after meeting the guys behind Brussels Beer Project. Their Babylone beer, so called because it's based on a 7,000-year-old "divine drink" made with fermented bread, is brewed with bread surplus. What better way to preserve bread than by brewing beer! The guys shared their expertise with them and their first brewery partner, Hackney Brewery, so they could start a global food waste rev-ALE-ution.
Toast Ale refined their recipe with Hambleton Ales and are now brewing their full range – a Pale Ale, an IPA and a Lager – with Wold Top Brewery in Yorkshire. Wold Top Brewery use traditional methods and recipes to brew ales with character. The character reflects the fact that the pure, chalk filtered water travels only metres from a borehole to the brewery, that the barley is exclusively Wolds grown and malted by family maltsters and that selected British grown hops impart a distinctive flavour.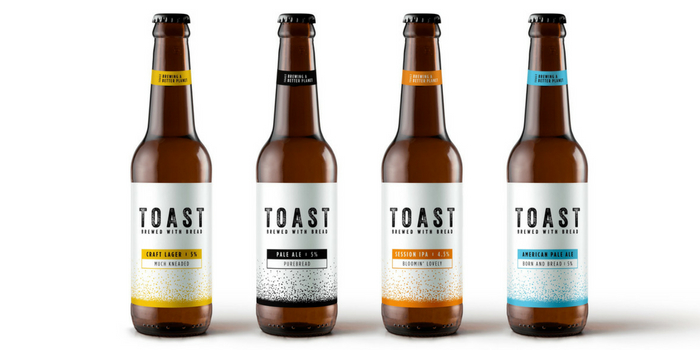 They also collaborate with breweries on exciting new beers. Wiper and True in Bristol created 'Bread Pudding'. Inspired by the idea that traditional bread pudding uses leftover bread, they brewed bread with brandy-soaked currants infused with Bourbon vanilla and cinnamon along with lactose – the sugar from cow's milk – to create a rich, sweet and velvety Amber Ale evocative of traditional bread pudding.
Other collaborations include St Austell's Brewery in Cornwall who stocked them in pubs across the South West, King Street Brewhouse in Bristol who supplied cask beer to Shambala Festival and Franklins Brewing Co in Sussex who use bagels in their Optimist beers. They also have an ongoing collaboration with Essex Street Brewery at Temple Brewhouse in London. Head brewer Vanesa has created a 'Brown Toast' Porter and a 'White Toast' Weissbier in addition to her version of the Pale Ale. If you're in London, pop in and chat with her about her experience.
AMERICAN PALE ALE: Crafted from fresh surplus bread, malted grain and the finest Centennial and Cascade hops. Delivering passionfruit and citrus aromas with a refreshing finish.
CRAFT LAGER: Much Kneaded is a crisp, refreshing pilsner style craft Lager with delicate hops character.
PALE ALE: Purebred is a fully flavoured Pale Ale brewed with surplus bread, malted barley, hops and yeast. It has clear hop aroma from Cascade and Chinook hops, and moderate bitterness and body that results in a well-balanced beer. Some fruity notes.
SESSION IPA: Bloomin' Lovely is a punchier version of their Pale Ale with higher bitterness and more intense hop aroma. It's moderate alcohol versus other IPAs in the market so their drinkers can enjoy as a session beer.
They are creating a rev-ALE-ution, inviting brewers to work with them to end food waste. They are going global … but staying local. They don't export. All Toast is brewed by local breweries, using local sources of fresh surplus bread. And they supporting local food organisations to end food waste and to fix injustices in the food system.
Submissions for the 2024 USA Beer Ratings are now open. Enter your beer brands today at the lowest price. Here's how to enter.